Thursday, April 22, 2004
---

AIN'T IT COOL
Kerry is losing young voters to Bush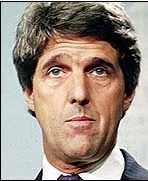 Which one got more wedgies and noogies in school?
According to Newsweek, Kerry is in trouble
when it comes to younger voters
.
While it's possible this heavy wooing may stem Kerry's slide among young voters, the GENEXT poll indicates that the candidate can't even count on the support he currently holds: A substantial proportion, 30 percent, of 18-29-year-olds pledged to Kerry said they could change their mind before the November election while only 13 percent of young Bush voters said they might switch their vote.
|