Wednesday, May 19, 2004
---

DAILY 7: Senate race, Bush's deal on judges, celebrities give their kids wacky names, Olympics, Simon Cowell, Al Qaeda in Iraq, New York City
DR. MARILYN F. O'GRADY,
the Conservative Party's challenger to Senator Charles E. Schumer, a Democrat, says she's the true Republican in the New York race.
She is, understandably, raring to get her campaign headquarters set up in Brooklyn and begin denigrating Mr. Schumer - she says, with extreme huffiness, that she "would rather cut off both arms" than vote for him - and disparaging Assemblyman Howard Mills, the presumptive Republican nominee who is, in her book, not a bona fide Republican.
JUDICIAL NOMINEES:
President Bush reached a deal with Senate Democrats yesterday to dislodge 25 of his stalled judicial nominees.
Sen. Edward M. Kennedy, Massachusetts Democrat, said yesterday that although he welcomes the deal, it "doesn't change the fact that the two recess appointments President Bush has made are an affront to the constitutional role of the Senate and totally inappropriate."
. . .So much for Bush's attempt at bi-partisanship
HELLO, MY NAME IS. . .APPLE
But Apple - assuming the poor little thing doesn't grow up to resemble one - is a relatively harmless moniker in the annals of celebrity parenthood. Here are some of our favorites, from the spring-scented to the outrageous to the classic:
Musician John Mellencamp's boy is Speck Wildhorse. A Knight's Tale's Shannyn Sossamon must have a hard time finding bike license plates for Audio Science. Jason Lee named his son Pilot Inspektor. Apparently, Pilot Inspector was too common. Six Feet Under actress Rachel Griffiths must really like bluegrass music. Her son is Banjo. Beats Dulcimer, though. Toni Braxton's sons are blue-collar standards, Diezel and Denim.
YANKEE GO HOME: ANTI-US FEELING ON THE IOC
American woman ousted as leader of effort to bring Olympics to London
SIMON COWELL INTERVIEW:
HEFFERNAN What about an "American Idol" song?

COWELL Could I sit there and listen to these kids sing in a concert? I couldn't stay there for two minutes. I couldn't think of anything worse.

HEFFERNAN Even a Clay Aiken concert?

COWELL Are you kidding? I wouldn't last a minute.
SPAIN: JUDGE LINKS AL QAEDA TO IRAQ INSURGENCY
DIRTY? RUDE? OBNOXIOUS? YAY!
I was afraid the answer would be L.A., Orlando, or worse, Boston. But, I proved my New York-ness, phew. One question, why Cleveland and no Chicago?
Take the quiz:
"Which American City Are You?"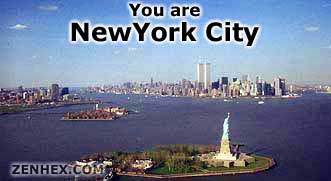 New York
You're competitive, you like to take it straight to the fight. You gotta have it all or die trying.
hat tip:
The Patriette
|