Monday, March 29, 2004
Bush leads Kerry 51% to 47% in Gallup poll; Dead heat of 46% to 47% in Pew poll
According to Gallup poll, 58% approve of Bush's handling of terrorism. Bush's overall approval rating is highest in more than one year.

Richard Clarke's attempt to destroy Bush's terrorism record has had no effect- Bush leads Kerry 53% to 29% in Pew Poll when it comes to who could handle terrorism better.

Bush's comeback in Pew Poll is remarkable because he was losing in the last poll, 52% to 43%. Kerry has lost sizable lead on who is best on economic issues. According to Pew, voters support of Kerry on domestic issues "has slipped, not grown, over the past two weeks."

Check out Gallup poll and Pew Research Poll results. Friends, here are others checking out the poll results: Political Wire, Alpha Patriot, The Corner, IMAO, Captain's Quarters has great analysis.
|
---

CNN.COM ACTS AS MOUTHPIECE FOR EXTREME LIBERAL GROUP, THE NPA
CNN.com's article
copied
from radical group's
news release
about its attack on Karl Rove's house.
In my other post immediately below, you can read about how the far-left group, National People's Action (NPA), carried out a pre-meditated attack on Karl Rove's home. While the Washington Post reported how NPA members swarmed Rove's home and banged on his windows, CNN.com said nothing about their appalling tactics. In fact, CNN.com pulled the quotes and arguments NPA made in their own press release as the meat of its article on what happened on Sunday.

The CNN.com article did not present, nor provide any unbaised reporting. Instead, CNN.com was a mouthpiece of this extreme far-left group. Compare the CNN.com "article" and NPA's own press release.



Emira Palacios, NPA Co-Chairperson (and evidently, CNN.com editor)

Here is what NPA has to say on their own website about their tactics and mission...
NPA is not nice.
"They say we are not nice when we protest and demonstrate at people's homes and offices. But bad housing isn't nice, redlining isn't nice, high oil prices aren't nice, crime on our streets isn't nice," said Gale Cincotta, former NPA chairperson in 1982 during NPA's "Reclaim America."

NPA Song
We come from all across this land, march on Washington, take a stand.
We won't sit down; we'll stand and fight.
Equality and Justice they are a right.
We won't go away until we're heard every sentence, every word. But, "Your tactics just won't work," they say,
as we set up a meeting for next Wednesday!

Who's on your hit list NPA?
Who's on your hit list for today?
Take no prisoner, take no names.
Kick 'em in the ass when they play their games.....

Thanks to Drudge for the NPA press release. Update: There are those out there who agree with me, including Lonewacko and The Primary Main Objective who has a very good analysis of this story.
|
---

DO NOT TRESPASS: HUNDREDS PROTESTED ON SUNDAY AT KARL ROVE'S HOUSE
CNN doesn't say that
protestors swarmed Karl Rove's home
, knocking on his windows
According to a
Washington Post article
, supporters of the proposed "DREAM Act," stormed Karl Rove's lawn, surrounded his house, pounded on his windows and demanded that he come outside. But
CNN.com never mentioned
what the protestors did on Karl Rove's property. CNN only said that
"protesters stood outside Rove's Washington house to show their support for the Development, Relief and Education for Alien Minors Act, or the DREAM Act."
The
DREAM Act is a bill that would allow illegal aliens to pay in-state tuition for college
. It was
introduced by a Republican
, Senator Orrin Hatch of Utah.
According to the Washington Post:
"Seems like he doesn't want to invite us in for tea," Emira Palacios quipped to the crowd. Others chanted, "Karl Rove ain't got no soul." The crowd then grew more aggressive, fanning around the three accessible sides of Rove's house, tracking him through the many windows, waving signs that read "Say Yes to DREAM" and pounding on the glass. At one point, Rove rushed to a window, pointed a finger and yelled something inaudible.
Palacios, trembling and in tears herself, said, "He is very offended because we dared to come here. We dared to come here because he dared to ignore us. I'm sorry we disturbed his children, but our children are disturbed every day. "He also said, 'Don't ever dare to come back,' " Palacios said. "We will, if he continues to ignore us."
But, CNN didn't report about any of these tactics. It only tried to explain the bill supporter's point of view:
The measure would grant conditional legal status to youths who have lived in the United States for at least five years and were younger than 16 at the time of their entry. Their families must have paid taxes for at least three years.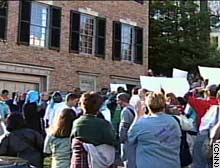 CNN's picture belies the facts presented in its own story. Here, protestors are shown demonstrating directly on Karl Rove's property.
Update
: Friends,
Kalblog
discusses this story. In addition,
Knowledge is Power
guesses how people got Karl Rove's address. Others writing about this include,
Resurrection Song
,
Captain's Quarters
,
Wizbang
,
Aaron Meck
, and
The Agonist
. But,
Suburban Guerilla excuses this crass behavior
.
|