Wednesday, May 19, 2004
---

INTERN SEX SCANDAL ROCKS NEW YORK STATE CAPITOL
Albany legislators have been accused of raping, having sex with and harassing interns
Last week, an Assembly intern accused famed politician
Adam Clayton Powell IV
of raping her in a motel room. Since then, stories have come out about what legislators really hope to get out of their young office interns. The Democrat controlled Assembly has been assailed for ignoring how elected officials ply underage staffers with alcohol at parties. Last year, Michael Boxley, chief counsel for the Assembly Speaker plead guilty to sexual assault after being accused of rape. The Assembly Speaker, Democrat
Sheldon Silver,
faced accusations that he tried to protect Boxley. Even female Assembly members have reputedly hired interns as "boy toys."
Though many lawmakers are married, she said, they seem to abide by the old "Bear Mountain" compact -- anything that happens north of the Bear Mountain Bridge stays upstate.
MAY 11-
NEW YORK ASSEMBLYMAN ACCUSED OF ABUSE
A 19-year-old intern has accused N.Y. Assemblyman Adam Clayton Powell IV of abuse and sexual assault, the New York Daily News reported Tuesday. A police report indicated the woman, who says Powell gave her liquor in a motel room, claims "she was forced to have sexual intercourse by above named suspect after consuming some alcohol" at the motel.
MAY 11-
Police examine bedding from hotel room in sexual assault probe
Monday at a news conference in the state Capitol, Assembly Speaker Sheldon Silver said he was "deeply troubled" to learn of reports that Powell had provided alcohol to a 19-year-old intern.
MAY 12-
POL'S RAPE ACCUSER SAID YES TO SEX: COPS
She then admitted having sex twice that night and even suggested Powell use a condom, according to the WTEN report. She also told police that she only accused Powell of rape after being encouraged to do so by her boyfriend, according to the report. A Colonie police report released Monday said the alleged victim - who has also said Powell plied her with alcoholic beverages despite her being under the legal drinking age - had accused Powell of rape.
MAY 12-
Powell rape claim bogus, teen says
As reported in The News on Sunday, the woman said Powell invited her to watch a basketball game on May 4 in his motel room, where they drank Scotch. After the rendezvous, the woman left and found a string of eight messages left on her cell phone by her boyfriend, who confronted her at her apartment. She said she first told him she had been out with girlfriends, but he snatched her phone, pressed the button for last number called and found she had been talking to Powell. "[The boyfriend] was calling me a slut and a whore - and on the other hand telling me that I was a victim and that I was raped," she said.
MAY 13-
EDITORIAL: ASSEMBLYMAN GONE WILD
MAY 13-
Legislative liaisons turn dangerous
The training "didn't seem applicable," and complaints about inappropriate relationships are not taken seriously, said the former Assembly staffer who last year pressed rape charges against J. Michael Boxley, former top counsel to Speaker Sheldon Silver. "They didn't let on that these would be 50-year-old assemblymen trying to take us out and get us liquored up," said the 22-year-old, who began as an intern and was hired as a staffer. "We definitely wanted to go out with them outside work, to make the connections," she said. "It's like someone saying, 'I'm really good at politics and want to teach you.' What they don't say is 'I'm not interested in you, I just want to get in your pants.'"
MAY 14-
THEY'RE THE SAME OLD LUSTY LEGISLATORS I KNEW AND DIDN'T LOVE
TAKE it from a survivor of Albany's intern program. It brings some warped comfort in these uncertain days to know that a few services provided by your taxpayer-paid servants in the state Capitol haven't changed a bit in 20 years. As sure as you can count on higher taxes and the open bar, you know that your elected officials are hard at work each legislative season, plying eager, young interns with booze and promises.
MAY 14-
HOW POLITICIANS BAG SEX INTERNS
The latest Assembly sex scandal is just the "tip of the iceberg" of a far wider system of aggressive exploitation of young women in the state Legislature's intern program, a former official has told The Post. "The Assembly intern program is like a 'canned hunt' for these young women," said the ex-Assembly official. "Office assignments for these interns isn't done at random, with interns just being sent to different offices by chance," added the former official, who has firsthand knowledge of the intern program. "Assembly members make calls prior to the arrival of the interns in January, or send out scouts to look them over, and then they put in their 'orders' with the staff for the type that they want."
MAY 14-
SEX AND THE ALBANY INTERNS
MAY 15-
SEX SCANDAL PROMPTS ASSEMBLY CRACKDOWN
MAY 16-
ALBANY IS FACING ITS SEX PROBLEM AND NO ONE IS SNICKERING
MAY 18-
ALBANY IS NOW THE CAPITAL OF SCANDALS
Albany isn't a city. It's a scandal sheet. In Albany, there are the players - our elected representatives - and the rest of us, the little people. Little people want relief from the hundreds of millions that are paid out every year in lawsuits against the city and state. But that would cut the income of personal injury firms like Weitz & Luxenberg, Speaker Silver's employer. Only little people pay for lawyers when they get into trouble. Albany's players pay lawyers with their campaign funds. Then, once convicted, they still collect their pensions. In Velella's case, $80,000 a year for life.
MAY 19-
ASSEMBLY ADOPTS NEW RULES TO BETTER PROTECT ITS INTERNS
MAY 19-
ASSEMBLY MEMBERS BARRED FROM DATING INTERNS
|
---

DAILY 7: Senate race, Bush's deal on judges, celebrities give their kids wacky names, Olympics, Simon Cowell, Al Qaeda in Iraq, New York City
DR. MARILYN F. O'GRADY,
the Conservative Party's challenger to Senator Charles E. Schumer, a Democrat, says she's the true Republican in the New York race.
She is, understandably, raring to get her campaign headquarters set up in Brooklyn and begin denigrating Mr. Schumer - she says, with extreme huffiness, that she "would rather cut off both arms" than vote for him - and disparaging Assemblyman Howard Mills, the presumptive Republican nominee who is, in her book, not a bona fide Republican.
JUDICIAL NOMINEES:
President Bush reached a deal with Senate Democrats yesterday to dislodge 25 of his stalled judicial nominees.
Sen. Edward M. Kennedy, Massachusetts Democrat, said yesterday that although he welcomes the deal, it "doesn't change the fact that the two recess appointments President Bush has made are an affront to the constitutional role of the Senate and totally inappropriate."
. . .So much for Bush's attempt at bi-partisanship
HELLO, MY NAME IS. . .APPLE
But Apple - assuming the poor little thing doesn't grow up to resemble one - is a relatively harmless moniker in the annals of celebrity parenthood. Here are some of our favorites, from the spring-scented to the outrageous to the classic:
Musician John Mellencamp's boy is Speck Wildhorse. A Knight's Tale's Shannyn Sossamon must have a hard time finding bike license plates for Audio Science. Jason Lee named his son Pilot Inspektor. Apparently, Pilot Inspector was too common. Six Feet Under actress Rachel Griffiths must really like bluegrass music. Her son is Banjo. Beats Dulcimer, though. Toni Braxton's sons are blue-collar standards, Diezel and Denim.
YANKEE GO HOME: ANTI-US FEELING ON THE IOC
American woman ousted as leader of effort to bring Olympics to London
SIMON COWELL INTERVIEW:
HEFFERNAN What about an "American Idol" song?

COWELL Could I sit there and listen to these kids sing in a concert? I couldn't stay there for two minutes. I couldn't think of anything worse.

HEFFERNAN Even a Clay Aiken concert?

COWELL Are you kidding? I wouldn't last a minute.
SPAIN: JUDGE LINKS AL QAEDA TO IRAQ INSURGENCY
DIRTY? RUDE? OBNOXIOUS? YAY!
I was afraid the answer would be L.A., Orlando, or worse, Boston. But, I proved my New York-ness, phew. One question, why Cleveland and no Chicago?
Take the quiz:
"Which American City Are You?"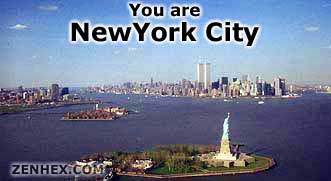 New York
You're competitive, you like to take it straight to the fight. You gotta have it all or die trying.
hat tip:
The Patriette
|