Monday, September 06, 2004
---

THE GALVIN OPINION GOES TO THE RNC!!
The
RNC Bloggers
weren't the only ones who had fun last week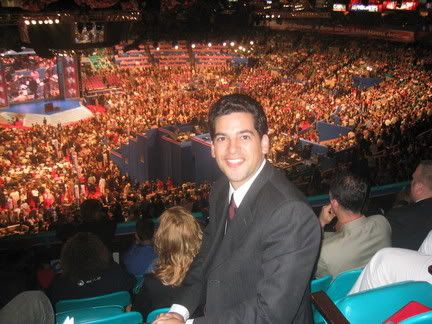 As Rudy Giuliani said, "It's good to see all these Republicans. I finally feel at home!"
Last week, I was lucky enough to take part in some events concerning the Republican National Convention in New York City. I saw and met some famous figures. I was able to go to some fun parties and attend the third night of the convention at Madison Square Garden. I think this was the best convention that Republicans have put on in many years and I was proud of the way that New York (especially the NYPD) handled the way the convention was run.
SUNDAY: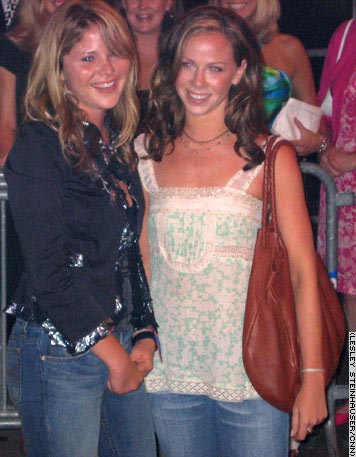 The Bush twins, Barbara and Jenna, hosted a party called "R: The Party" at
Roseland Ballroom
on W. 52nd Street. I got an invitation and had a good time there. There were about 1,000 people, mostly young. There was some live music at the party, some better than others. The crowd only really started moving when the DJ started up the music. The DJ,
Tom Finn
of Studio 54 fame, did the best job on the night. Folks were not happy about the cash bar, it was not an open bar! We didn't get any pictures of the Bush twins. But, CNN got a picture (left) as they went into the party.
We did see some celebs like Don King. There was also Aaron, from ABC's
The Bachelor
,
Angie Harmon
and
Jason Sehorn
. But, that was it. Remember, this was not your college professor's Democratic Convention.
TUESDAY: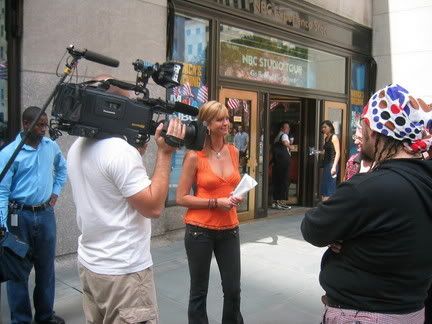 Nancy O'Dell of "Access Hollywood". I think she's interviewing grungy socialist-protestors who ventured to a capitalism landmark, Rockefeller Center, in search of expensive Starbucks coffee and celebrities.
Later, on Tuesday afternoon I had the good fortune of meeting former
President George H. W. Bush
at New York's Roosevelt Hotel. He spoke at an event hosted by the Hispanic Alliance for Progress Institute (HAPI).
Former President George H. W. Bush with his grandson, George P. Bush (yes, the picture quality is poor due to the lighting).
Manuel Lujan, former Interior Secretary of the first Bush Administration, spoke.
New Mexico Senator Pete Domenici
introduced the president. Former President Bush highlighted how his son, President George W. Bush, has appointed more than 600 Hispanics to government positions. And President Bush introduced George P. to the wild approval of the female members of the audience. George P. Bush gave a good talk about how Hispanics are doing well under President George W. Bush. The crowd at the Roosevelt Hotel was boisterous and enthusiastic for our president and the ballroom was filled with chants of "four more years!" There was an abundance of food, drink and live music and the reception was well attended. The group HAPI should be proud of itself for putting on a great performance.
The Hispanic Alliance for Progress Institute is a new conservative nonprofit organization that will work to counter liberal Hispanic groups, help to improve the economic conditions of Hispanics and promote traditional family values.
I also had the good fortune of meeting 2 prominent Hispanic Republicans. Standing next to me in the audience was
Tim Escobar
, candidate for Congress. Escobar is running against Linda Sanchez and needs all the help he can get! Along with Escobar was his wife Debra. They were both very nice and gracious while I stood talking to them while waiting for former President Bush to arrive.
After the event was over, I was able to meet and speak with Counsel to the President,
Alberto Gonzales
. He was willing to say hi and speak with anyone who came up to him, and I wished him the best on continuing to do a great job at the White House.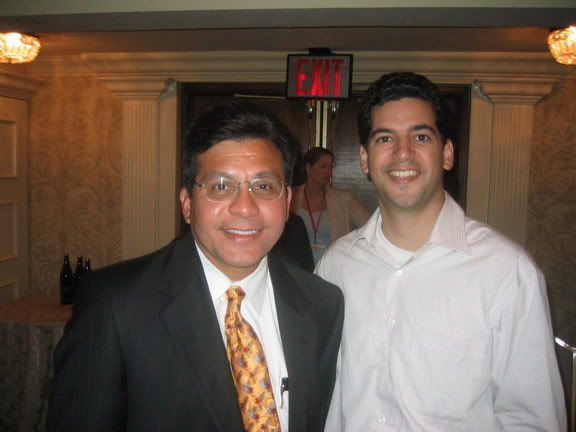 Thomas Galvin with Alberto Gonzales, White House Counsel
WEDNESDAY:
I was able to attend the Republican Convention on this night. There was a massive security presence around Madison Square Garden. I took the Long Island Rail Road directly to Penn Station which sits underneath The Garden. Penn Station was filled with cops and no protestors. In fact, when I emerged from the station and came out on 34th Street I did not see nor hear any protests. I went through several police checkpoints until I was finally able to reach the main entry point for the Convention. While standing in line I saw former
Senator Phil Gramm
being escorted past all of us through the security line. It took a while to get through the metal detectors but not as long as I thought it would. When I assumed my seat,
Labor Department Secretary Elaine Chao
was speaking.
Michael Reagan
then appeared and gave a touching tribute to his biological parents and birth parents whom he said were all "pro-life and pro-adoption" - a statement met by many cheers.
Zell Miller
gave a
great speech
. The crowd was cheering so much I couldn't hear whatever he was saying during the applause! I was able to make out the word "spitballs?!" and knew what exactly he was talking about - that line brought the house down.
Vice President Cheney
gave a
strong speech
and another successful night was over!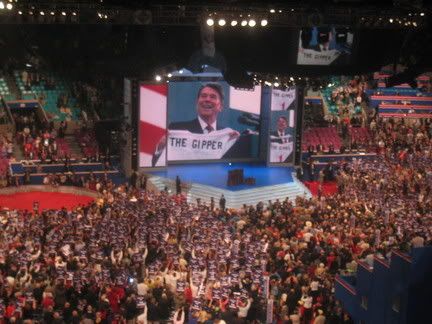 Michael Reagan introduced the video tribute to his father
Zell Miller zinged fellow Democrat John Kerry over and over again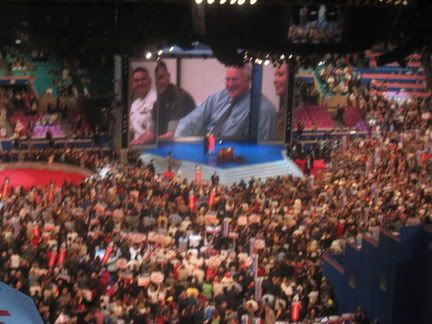 Vice President Cheney was finally able to speak for himself (and showed a kinder and gentler side in the process)
THURSDAY:

First of all, what a great night for
President Bush
. How did he pull that magic act of appearing on stage? After watching President Bush's
triumphant and excellent acceptance speech
on television I headed downtown to the Republican Convention "Wrap Party" at Avalon. While the big party to be at, that night, was the Bush twins party at Gotham Grill, there were a lot of people at Avalon having a good time. At the Wrap Party there was an open bar to the delight of party-goers. That night we did come across the good, the bad and the ugly.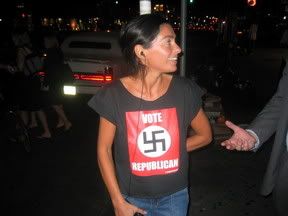 Julie, another enlightened protestor, makes her point outside of the Republican National Convention Wrap Party
CONCLUSION:

Some interesting tidbits from the week:
1) I saw James Carville, in a t-shirt and shorts, being denied access to a hotel that was housing delegates. When Carville was asked by security for his room key (as proof that he was staying at the hotel) Carville pretended to fumble for his wallet. But when the security guard said, "Mr. Carville, I have to ask because only hotel guests are allowed in here" Carville replied, "Oh, I just have to go to the bathroom." The security guard, without missing a beat, said, "Sorry, Mr. Carville, you have to leave." And with that, Carville sheepishly went out the door.
2) There was a young woman wearing a DNC t-shirt and holding a clipboard on 6th Avenue loudly declaring that New York "is a Democratic city!" So much for democracy and the two-party system, huh? No wonder some of these Democrats sympathize with the Baath Party.
3) New York City was largely empty during the week. The blame should not go to the Republicans but to the protestors who scared city residents into thinking that there was going to be a riotous free-for-all.
4) Delegates were harassed at places like the Broadway theaters after leaving shows. While they knew that the protestors were a small but vocal group, it did leave many Republicans rattled and worried.
5) The NY Times reported that out of the 1,800 protestors who were arrested ONLY 600 came from New York State. That is an astounding number but also reveals that the protestors didn't know what they were in for when they came to New York (underestimating how tough are the New York cops).
6) The protestors failed because the NYPD succeeded. The NY police department is the best at what it does. The cops were coordinated and knew exactly what they were doing. They were able to prevent many protests, anarchists and agitators from getting out of control.
As a Republican from New York, I could not be more proud of my party and my city. I was sure that the RNC would be a success but my expectations on how well it did politically, emotionally and economically were exceeded. It was a great week for everyone involved. Personally, I had a great time and will never forget it.
FOUR MORE YEARS!
Update: Answering questions from some Galvin Opinion readers has reminded me of other experiences from last week...
From the Where-Did-They-Come-From Department I saw Elizabeth Smart's
parents
(Utah delegates perhaps?). A few days later I saw
Hulk Hogan
. The Hulkster was getting out of a limo on Central Park South. When I went up to shake his hand he seemed none too pleased. Sorry, Hulk. But, his hand was huge. I've seen quite a few celebrities in New York but never thought I'd meet
Thunder Lips
.
While I'd rather talk about my brush with WWF fame, I met a few politicians. I saw
Sen. Majority Leader Bill Frist
speak at a breakfast meeting for the Louisiana delegation. Also had a chance to meet
Sen. John Warner
who spoke to anyone and everyone who approached him.
I saw
South Carolina Gov. Mark Sanford
greet his state's delegation. Gov. Sanford was impressive, up close. He is a youthful engaging speaker. He's up for re-election in 2006 so I won't be surprised if he becomes a credible Republican presidential candidate in 2008.
Congressman Joe Wilson
made another good impression. Outgoing and personable, he was clearly proud of his two sons traveling with him and kindly introduced them to everyone he met.
When I was at the convention I met a reporter for
Legal Affairs Magazine
, Nicholas Thompson. Thompson is one of the magazine's Senior Editors.
Thompson
told me that the magazine is associated with Yale Law School and aims to be "at the intersection of law and life." I never heard of the magazine until last Wednesday but after perusing its website, I found it to be interesting and thought provoking. You may not agree with all of the magazine's content but I highly recommend
Legal Affairs Magazine
.
While talking to Thompson, I told him that I had a blog. We discussed the role that blogs are trying play in this year's election. We then talked about various conservative blogs that are not as well-known as
Instapundit
. I suggested he check out some of the blogs that are credentialed at the convention and specifically mentioned
Spot On
,
Slant Point
and
Wizbang
. I'm sure he checked them out and it's a good bet that conservative blogs are attracting more attention on a daily basis.
|